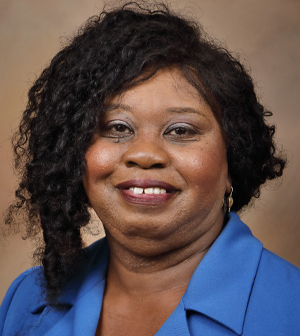 Dr. Cattledge is professor of practice in the Department of Public Health in the College of Health Professions.  She serves as the director of the Doctor of Public Health (DrPH) program.
Dr. Cattledge received her PhD in Epidemiology with a specialty in environmental/occupational epidemiology from the University of Pittsburgh, MS in Environmental Health with a specialty in epidemiology from East Tennessee State University, and BS in Biology from Fayetteville State University.
Dr. Cattledge has extensive experience as an epidemiologist, including 31 years at Centers for Disease Control and Prevention (CDC) in the United States Department of Health and Human Services. Her experience includes working as a Senior Epidemiologist with the Deputy Director of the Institute on the National Occupational Research Agenda; National Team Lead for the Special Population at Risk Group; Executive Secretary for the Occupational Injury Workgroup for the Third Injury Control Research Conference; Scientific Review Official for the scientific peer review of injury and violence prevention grants and cooperative agreements totaling an average of $16M annually; National Lead for Healthy People 2020 and 2030 from the Injury and Violence Workgroup; and Designated Federal Officer for the Board of Scientific Counselors.  Dr. Cattledge served as founder and senior manager of CDC's Internship and Fellowship Program at the National Center, hosting an average of 50 students annually.  She has received numerous awards and recognitions at CDC for science and management, and in the community for health forums in educating communities.
Dr. Cattledge has received numerous awards and honors from CDC in science and management, as well as in the community including:  Who's Who Among American Colleges and Universities; Beta Kappa Chi National Scientific Honor Society; Outstanding Young Woman of America; recipient of the Lloyd Beta Kappa Chi National Scientific Honor Society Scholarship; U.S. Public Health Traineeship Awards; Award for Leadership Provided to the CDC National Occupational Research Agenda;  U.S. National Institutes of Health's Minority Health Scholar for Translational Research (charter member); a fellow in the American College of Epidemiology; Delta Omega Public Health Honor Society; a 2019 recipient of the Dr. Montague Cobb Award for Health by the National Association for the Advancement of Colored People, and a 2021 Recipient of the Unsung Heroes Award as a Pillar of Power in the 4th Congressional District of Georgia by U.S. Congressman Hank Johnson.
Dr. Cattledge is currently a member of the American Public Health Association, Society for Epidemiologic Research, Georgia Public Health Association, and Georgia Clinicians for Climate Action.
Contact Dr. Gwendolyn Cattledge
---