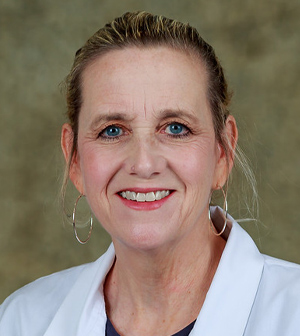 Erin Fitzpatrick Lepp is a Clinical Associate Professor of Physician Assistant Studies and serves as the Coordinator for Community Engagement.  She joined the faculty in 2019.
Professor Lepp earned her Master of Medical Science degree at the Emory University School of Medicine Physician Assistant Program and her Bachelor of Arts degree from Siena College. She has over 17 years of experience as a medical educator and has worked clinically as a certified PA in Family Medicine, Orthopedics, and as a Certified Diabetes Educator.  Additionally, she completed a yearlong Faculty Development Fellowship through the Emory Center for Community Partnerships where she gained leadership skills in designing and evaluating community-based service-learning initiatives for health professions students.
Professor Lepp chairs the State Office of Rural Health's Georgia Farmworker Health Program Advisory Board where she contributes her clinical expertise in order to improve the health of migrant and seasonal farmworkers and their families throughout Georgia.  She has authored numerous private foundation grants to enhance care for the working poor and has been honored as the "Humanitarian of the Year" by the Georgia Association of Physician Assistants and most recently as "Volunteer of the "Year" by the Atlanta Midtown Rotary Club. She has presented her scholarly work on enhancing curricular efforts to promote interprofessional education nationally.  Professor Lepp is an active member of the Physician Assistant Education Association, American Academy of Physician Assistants, Georgia Association of Physician Assistants, Society of Teachers of Family Medicine, and the Association for Prevention Teaching and Research.
Contact Erin Fitzpatrick Lepp
---