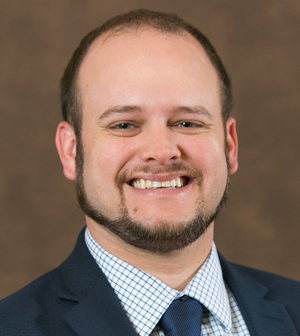 Dr. Daniel Dale is a clinical assistant professor and the Assistant Director of Clinical Education in the Department of Physical Therapy at Mercer University. He received his BS in Exercise and Health Science from Kennesaw State University in 2007 and his Doctor of Physical Therapy degree from Armstrong State University in Savannah, Georgia in 2011.  Dr. Dale is also a certified lymphedema therapist.  Dr. Dale joined the College of Health Professions faculty in October 2017.
Since becoming a physical therapist, Dr. Dale has worked at the Shepherd Center in Atlanta, working in inpatient and outpatient rehabilitation, and intensive care and medical-surgical care units managing patients with traumatic spinal cord and brain injuries, non-traumatic neurologic injuries, wounds, and lymphedema.
Dr. Dale's current teaching responsibilities include assisting in service-learning and clinical education courses; leading the health policy course; and assisting in courses throughout the curriculum that benefit from his knowledge and skill set.
His current research involves assessing student leadership in physical therapy and simulation-based interprofessional education.
Dr. Dale is an active member of the American Physical Therapy Association (APTA) and APTA Georgia. He has served on multiple committees and in leadership positions within the professional association and is the President of APTA Georgia.  Dr. Dale is also the Chair of the American Council of Academic Physical Therapy Student Leadership Development Committee.
Contact Dr. Daniel C. Dale
---