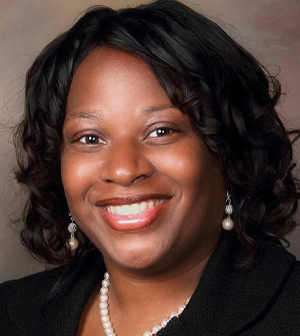 Dr. Cheryl Gaddis is associate professor of practice and chair of the Department of Public Health in the College of Health Professions.  She serves as the director of the Master of Public Health Program.
Dr. Gaddis received her Doctor of Public Health degree in Community Health Behavior and Education from Georgia Southern University Jiann-Ping Hsu College of Public Health, a Master of Public Health degree from Mercer University School of Medicine, and a Bachelor of Science degree in Biology from Spelman College. She is also a Certified Health Education Specialist through the National Commission for Health Education Credentialing, Inc.
Dr. Gaddis joined Mercer in 2003 as the Community Health Systems Developer for the Mercer Center for Community Engagement and Instructor in the School of Medicine.  She has over 15 years of experience as a public health practitioner and has held various academic roles including Director of Community Resources, Assistant Preceptorship Director, Associate Director of Programs and Community Engagements, and Assistant MPH Program Director. Prior to joining Mercer, she served with the North Central Health District 5-2 as the Health Promotions Coordinator.
Dr. Gaddis has taught within the MPH program at Mercer University for more thirteen years in the public health areas of health promotion and education, minority health and health disparities, and social determinants of health. She also taught in the community medicine program at the Mercer University School of Medicine for ten years. Dr. Gaddis received the Faculty of the Year Award in the public health program in 2008, 2014, and 2015.
Dr. Gaddis' research interests include health disparities and underserved populations, children's health, health promotion, and minority and rural health disparities. She has conducted and published works in community-based interventions and research on physical activity engagement among elementary school children, food access and security issues, as well as childhood asthma school practices.
Dr. Gaddis currently serves as an item writer for the Certified in Public Exam for the National Board of Public Health Examiners, a site visitor for the Public Health Accreditation Board, and treasurer for the Georgia Society of Public Health Educators. She is an active member of the American Public Health Association, Georgia Public Health Association and the Georgia Society of Public Health Educators. Dr. Gaddis has engaged in service with various community organizations on the local and state level as a board member, public health consultant, and grant, abstract, and journal reviewer. Dr. Gaddis is an inducted member of Omicron Delta Kappa Leadership Honor Society, Delta Epsilon Iota Academic Honor Society, and Delta Omega Honorary Society in Public Health.
Contact Dr. Cheryl L. R. Gaddis
---