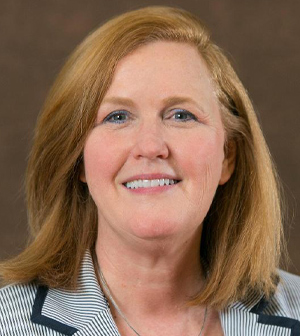 Dr. Ann Lucado is an associate professor in the Department of Physical Therapy and is serving as Interim Chair.  She was awarded her PhD in Physical Therapy with an emphasis in research methodology and design at Nova Southeastern University in 2010, her Master of Science in Community Health Education with an emphasis in Physical Therapy at Old Dominion University in 1991, and her Bachelor of Science in Psychology at James Madison University in 1988.
Dr. Lucado has held her Certification in Hand Therapy from the Hand Therapy Certification Commission since 1997 and has over 25 years of clinical experience in hospital based and outpatient physical therapy clinics in Virginia, North Carolina, and Georgia.
Her current teaching responsibilities include foundational musculoskeletal sciences, research methods and evidence-based practice across the spectrum of the research series, upper extremity prosthetics and orthotics, and hand, wrist, and elbow content in the post-professional residency.  She completed a 10- month Educational Fellowship through Mercer University Department of Physical Therapy.
Her research interests include regional interdependence in musculoskeletal disorders of the upper extremity, factures and orthotic devices for the upper extremity, and health promotion, wellness, and prevention of musculoskeletal disorders.  She has numerous publications and presentations at the state and national level related to her scholarly work.
Dr. Lucado is an active member of the Hand and the Orthopedic Sections of the American Physical Therapy Association and the American Society of Hand Therapists (ASHT) having served in several volunteer capacities including Division Director of Research and on the Education Council for the ASHT.  She treats and offers consultative services to patients with hand and wrist disorders through the Department Physical Therapy Clinic.
Contact Dr. Ann M. Lucado
---